A couple of weeks of ago, I was browsing my twitter feed and my pal @TheTinyJEWELBox tweeted her intention to attend Miami Comic Con. I nearly had a melt down! How did I, Sophie's mom and the biggest Sci-Fi and comic book dork, miss a  Comic Con only minutes from my front door? Thanks to some quick and miraculous timing, I was able to reserve the last spot for the tweetup! At the end of February, Miami hosted it's first ComicCon! Much to your dismay, I did not dress as Kara Thrace from Battlestar Galactica (if you dont know about BSG, go ahead and Netflix that piece!) but I came ready to bask in the glory of my pure dorkiness.  As soon as my family arrived, we were all tickled with joy. The costumes, the role playing and the fan faire were all so very entertaining.
The event was amazing, from a star on my favorite tv show in high school (Buffy the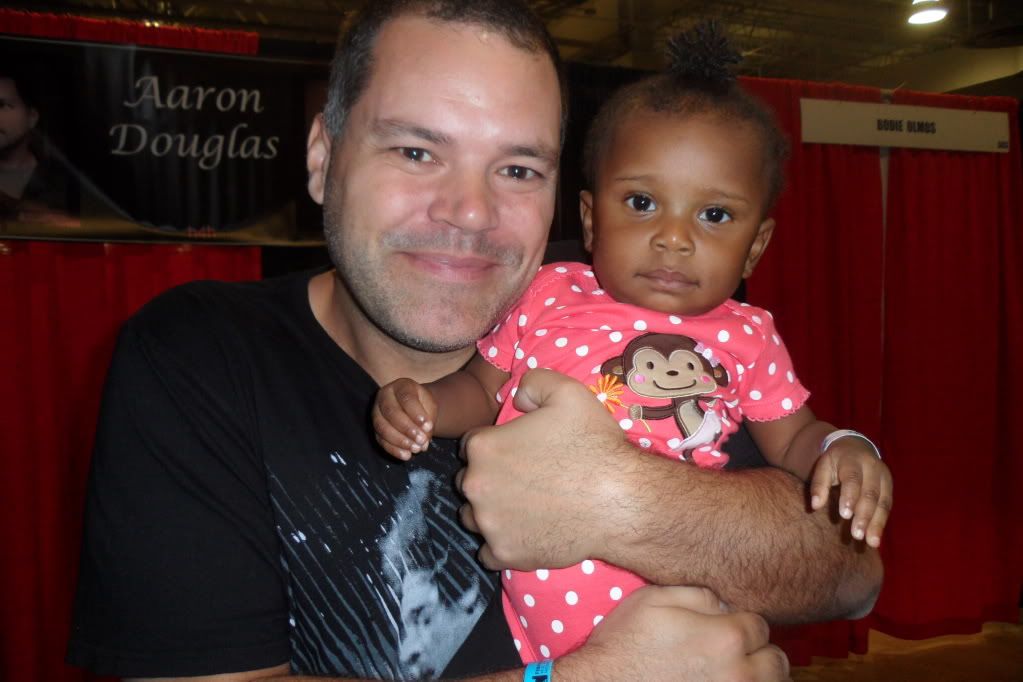 Vampire Slayer), Nicholas Brendon, asking for the chair next to me; to my a star  on my favorite tv show in College (Battlestar Galactica), taking a picture with my daughter. Everything to feed both your inner and outter child - Movies, Comics, Toys, Video Gaming, Games, TV, Horror, Wrestling, MMA, Original Art, Collectibles, Anime, Manga & More!
Thanks to my press status and a fellow blogger giving hubs and sis complimentary tickets, admission was free (normally a reasonable $25) but we spent so much on art, pics and custom drawings. Money well spent! They are going up in our entertainment cave when we move.
It was a really great event and my whole family had so much fun. Piglet was so entertained by all the sights, hubs was like a kid in a candy store and my sis was a celebrity with her fro puffs (so many took pics of her hair).
From His Perspective (please use old spice man voice):
HUBS: OK. Let me start off with this: It was the first time in my life where I was confused on EXACTLY what emotion I was suppose to feel. My inner fat kid was enthused and trying to stay composed; while every rational being in my body was telling me I was entirely TOO COOL to be there. Don't get me wrong; I'll have an in depth debate over why Stars Wars puts those Star Trek geeks to sleep (See Photo Above). Or, the layers of social commentary that the new Battle Star Galactica enthralled us with. BUT... There's something drastically wrong with a 6 foot tall, African American woman dressed like the 1950's Robin from Batman, standing next to Scooby Doo's Mystery Machine.(Yeah, it's like that...)- But Ask me if I'd do it again.... Answer: Absolutely. That is all.