I'm proud to call myself a Haitian American, and I am privy to first hand knowledge of both the joys and pains of life on this tiny island. Unlike the United States, Haiti's economy has not been able to sustain the welfare of the average Haitian American. A country with a majority  living  way below the poverty line. Many are working for a day's meal, and have zero access to education or medication. A trade of any sort is the difference between life and death, medicine and disease. An initiative like Heart of Haiti is more than temporary charity, it is in fact hope, and provides self worth and a means to sustain a community yesterday, today and tomorrow.
This holiday season, I'm working with Clever Girls Collective in support of Macy's Heart of Haiti. Macy's Heart of Haiti upholds the belief that "trade not aid" is a powerful way to create sustainable work and much needed financial opportunities. Heart of Haiti's "trade, not aid" program is vital in providing sustainable income to Haitian artisans struggling to rebuild their lives and support their families after the 2010 earthquake, this community of people are now in greater need post Hurricane Sandy. The initiative allows opportunities for the artists to work with US designers, helping strengthen international artisan relationships and making their products viable in the US market. The Heart of Haiti campaign pays in excess of fair wages to the talented artisans who create the product, giving them the dignity of work and economic self-determination. To date, the program has employed 780 artisans, which has improved the lives of over 6,200 individuals. The Heart of Haiti initiative provides artists with an opportunity to make a living, feed their families and pay their children's school fees. Haiti is the poorest country in the Western Hemisphere and despite the devastating earthquake people there are filled with hope and a desire to improve their lives through employment.
One of the hardest things is to miss the opportunity to help someone when you possess the ability to help someone. Prior to the 2010 earthquake, Haiti was hit by storms and flooding. Weeks after a major hurricane, we discovered that my mother's childhood friend had actually STARVED to death. Resources had already been scare and she, like many, had to choose between feeding herself and feeding her children. There are no words for the pain and devastation of knowing that you could have saved a life but was unable to in time.
Even before a string of natural disasters, many people were just barely surviving. Many who were surviving, would not if not for regular care packages of rice, small bits of cash and basics like clothing that relatives residing in the United States would often send. A good bit of my childhood memories include preparing care packages for my family residing in Haiti. Every summer my mother and a small band of missionaries travel to the poorest part of the country side to provide hope, joy and aide. We personally know of many Haitians who would feel immensely blessed and rich to have a means to feed, clothe and contribute to the general survival of themselves and family by having steady work. So help spread further joy and sustainable commerce by supporting Heart of Haiti
The Heart of Haiti collection features more than 40 home decor items including quilts, metalwork, jewelry and paintings all made almost entirely from recycled and sustainable items such as old cement bags, cardboard, oil drums and local gommier wood.
Heart of Haiti products are available online at Macy's.com.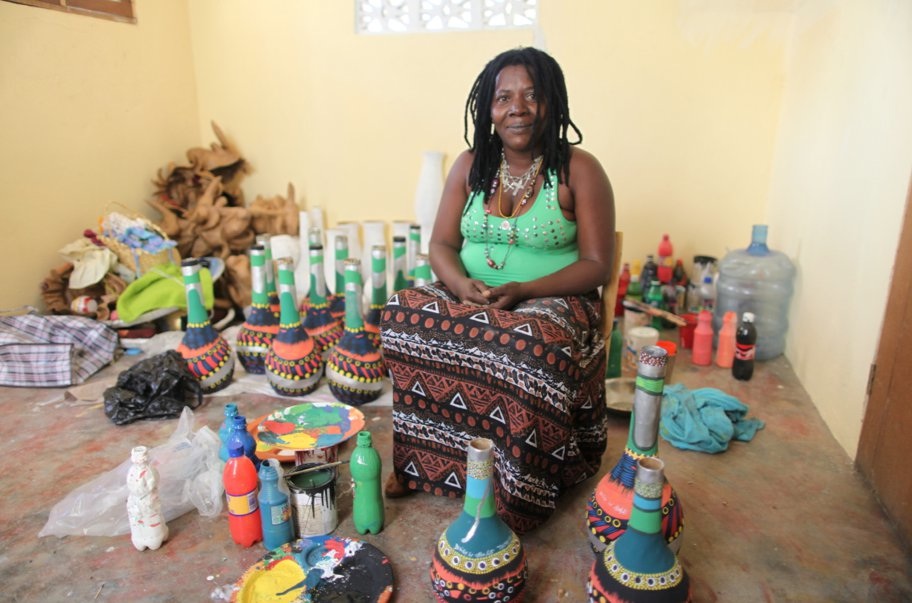 I was selected for this opportunity as a member of Clever Girls Collective, and the content and opinions expressed here are all my own. #CleverHaiti