This Mother's Day, I'm working with Clever Girls Collective in support of Macy's Heart of Haiti. This initiative's main purpose is to shine a light on Heart of Haiti, a "trade, not aid" program providing sustainable income to Haitian artisans struggling to rebuild their lives and support their families after the 2010 earthquake.
As a Haitian American, I can say with just a little bias, there is no art like Haitian art! When most hear the term third world nation, there are fairly graphic images of starvation, trash and a level of human suffering that is unimaginable for most US citizens. I, on the other hand, carry images wrought with color, joy, music and FOOD. A good bit of my maternal family reside in Haiti and by the grace of God, survived the 2010 earthquake that abruptly and violently took so many lives.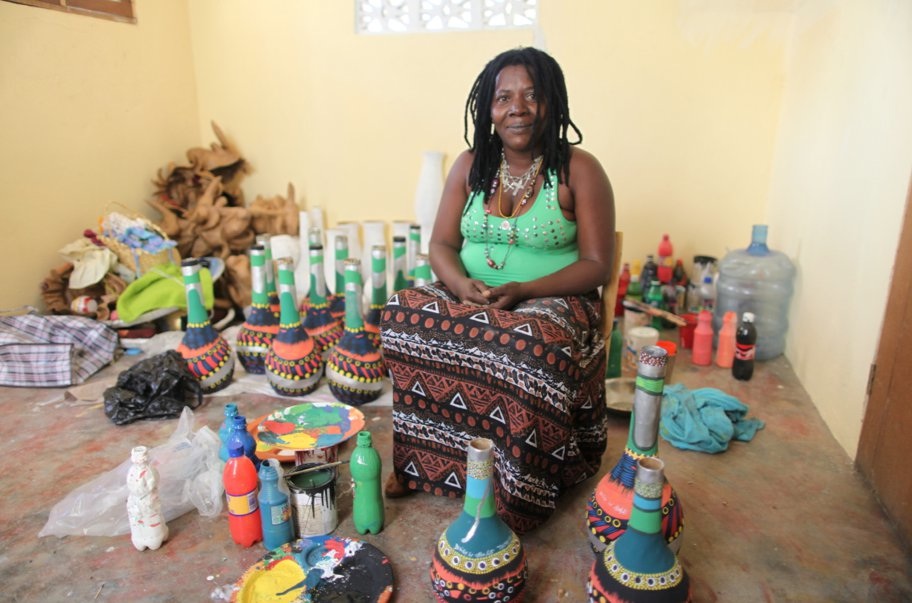 The thing about Haiti is that even before the earthquake many people were just barely surviving. Many who were surviving, would not if not for regular care packages of rice, small bits of cash and basics like clothing that relative residing in the United States would often send. A good bit of my childhood memories include preparing care packages for my family residing in Haiti.
One of the hardest things is to miss the opportunity to help someone when you possess the ability to help someone. Prior to the earthquake, Haiti was hit by storms and flooding. Weeks after a major hurricane, I found my mother was in a highly emotional state. I later found out that one of her childhood friends had actually STARVED to death. Resources had already been scare and she like many had to choose between feeding self and feeding the more helpless members of family.
You have to understand that with any nation still trying to find its way, that a little goes a long way. That poverty does not equate a less than rich culture. And just because there is a large number of the population in need, that we should become overwhelmed and give up . Giving a handful of people the ability to not only survive another day but hope of thriving one day is important. For that reason, I respect and admire initiatives like Heart of Haiti!
What is Macy's Heart of Haiti? Heart of Haiti is a "Trade, Not Aid" initiative launched by artist and social entrepreneur, Willa Shalit, The Clinton Bush Haiti Fund and Macy's. Already, Heart of Haiti has led to employment of 750 artists in Haiti, providing financial benefits for an estimated 8,500 people in the country.
This mother's day we will be sending care packages to mothers and children in Haiti and I will be giving my mother and friend Heart of Haiti Necklaces.
Heart of Haiti products are available online at Macy's.com. Thank you to Macy's Heart of Haiti for sponsoring my participation in this "Share Your Heart" promotion. I was selected for this sponsorship by the Clever Girls Collective. All opinions expressed here are my own.